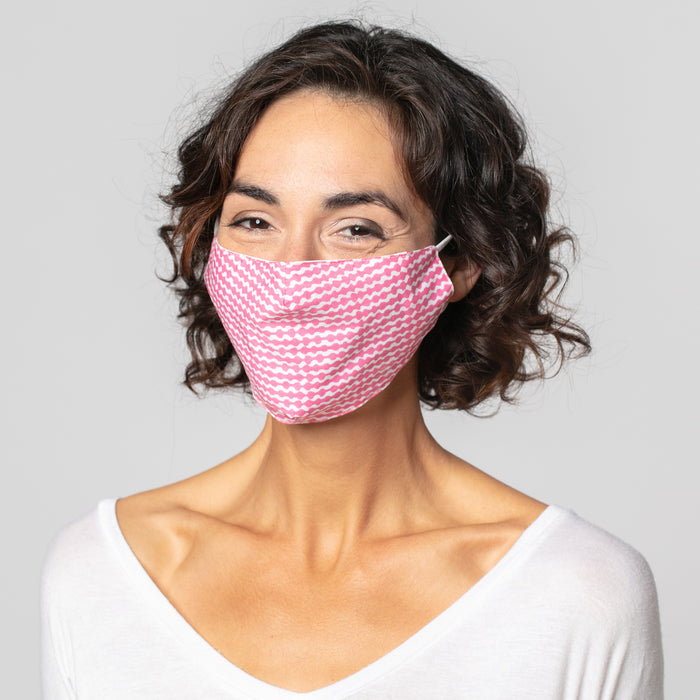 WAVERLY PINK Reusable Cotton Face Mask
422-9004W
Our lightweight cotton masks keep you safe and stylish. Our Abigail print features a fun print in blue and pink that your customers will love! These soft and breathable face masks are adjustable with comfortable elastic ear straps and nose wires for customized protection and have a casual look perfect for running errands around town. Plus, they are carbon filter compatible for even better filtration!
'Ģ 100% cotton
'Ģ Adjustable and soft elastic ear straps
'Ģ Breathable and comfortable
'Ģ Lightweight fabric
'Ģ Adjustable wire nose clip for a protective fit
'Ģ Two layers of fabric, with slip opening to insert a disposable filter
'Ģ Machine wash warm, tumble dry high heat.
'Ģ One size fits most adults
'Ģ Non-medical
'Ģ Mask dimension: 8'Äùw x 5.25'Äù h
'Ģ Compatible with standard PM 2.5 carbon filters, which improve filtration of your mask 60%-70%!
'Ģ 5 pack of PM2.5 carbon filter refills sold separately here
'Ģ Minimum 4
Ships within 2 business days from Columbus, OH.
'Ģ Orders are shipped either USPS, UPS, or FedEx.
'Ģ Orders will be shipped within 2 business days of order receipt based on product availability.
'Ģ If a shipment is damaged or lost, the customer should make a claim immediately with the carrier.