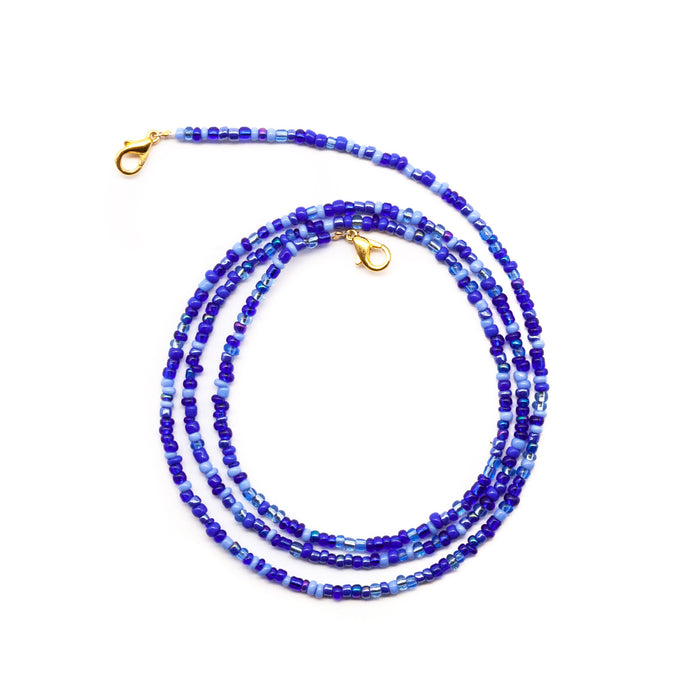 Glass Beaded Face Mask Lanyard Necklace
419-1000
Introducing rockflowerpaper Glass Beaded Face Mask Necklaces, a brilliant hands-free solution for holding face masks and glasses conveniently within reach, and safely off unsanitary surfaces.
Timely and stylish, our designs are also dual-purpose. For use with the lobster claw clasps alone to hold face masks or with the removable silicone holders added for glasses.

Available in six on-trend fashion colors, each featuring alternating glass beads in beautiful shades of complementary colors to mix and match with masks and clothing. This is an everyday accessory for the 'New Normal' lifestyle that consumers will purchase in multiples for self and gifting. 

Glass beads
Stainless steel wire
24" long
Gold-plated lobster claw clasp to hold mask straps
Removable silicon loops to hold glasses
6 colors!

Blue (with navy), 419-1000
Ocean (with turquoise and navy), 419-1001
Purple (with lavender and grey), 419-1002
Black (with grey, gold, and charcoal), 419-1003
Silver (with grey and gold), 419-1004
Pink (with peach and clear), 419-1005